12/13th Jan 2013 - Northern England Indoor Championships Sheffield EIS Arena - Sprinters win large medal haul in 60 m and 200 m in Northern Championships.
PSA Coached Athlete Ricky Reeves (Sheffield) wins silver medal in Senior Men 60 m (6.84 secs pb)
Aaron Crowley (Sale Harriers) takes Bronze in 200 m (21.72 pb indoors)Sprint event in tight final run to line with Linford Christie coached Dannish Walker Khan (Birchfield) winning in 21.44 secs he took the double winning the 60 m in 6.78 secs.
Mens Under 20 's Athletes win Gold, Silver and 2 Bronze medals.
Gold - Nathan Selby 200 m (21.74 secs pb indoors)
Bronze - Callum roughneen 200 m (22.4 secs pb indoors)
Silver Natham Selby 60m (7.04 secs pb indoors)
Callum Mc clean Bronze in 60 m (7.07 secs pb pb indoors)
We had a very good weekend with many Sprinters making finals and achieving personal bests. Some athletes will go on to the National AAA Indoors during Feb and on to European Indoors Championships in Gothenberg 1/3 rd March.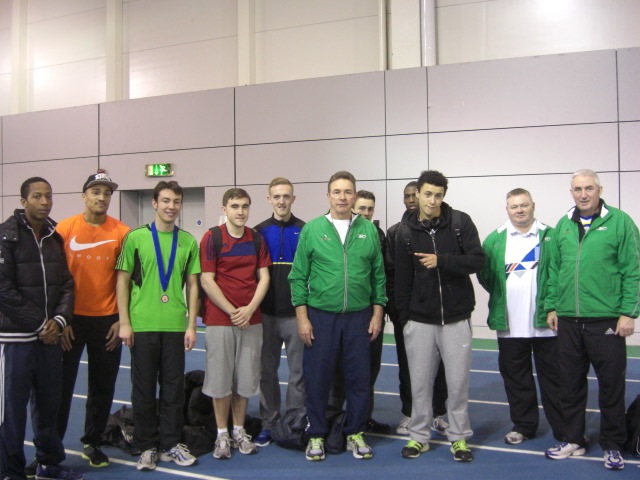 BELOW - Aaron Crowley Bronze Medal, Chris Craig Silver and Dannish Walker Khan the Gold medal winner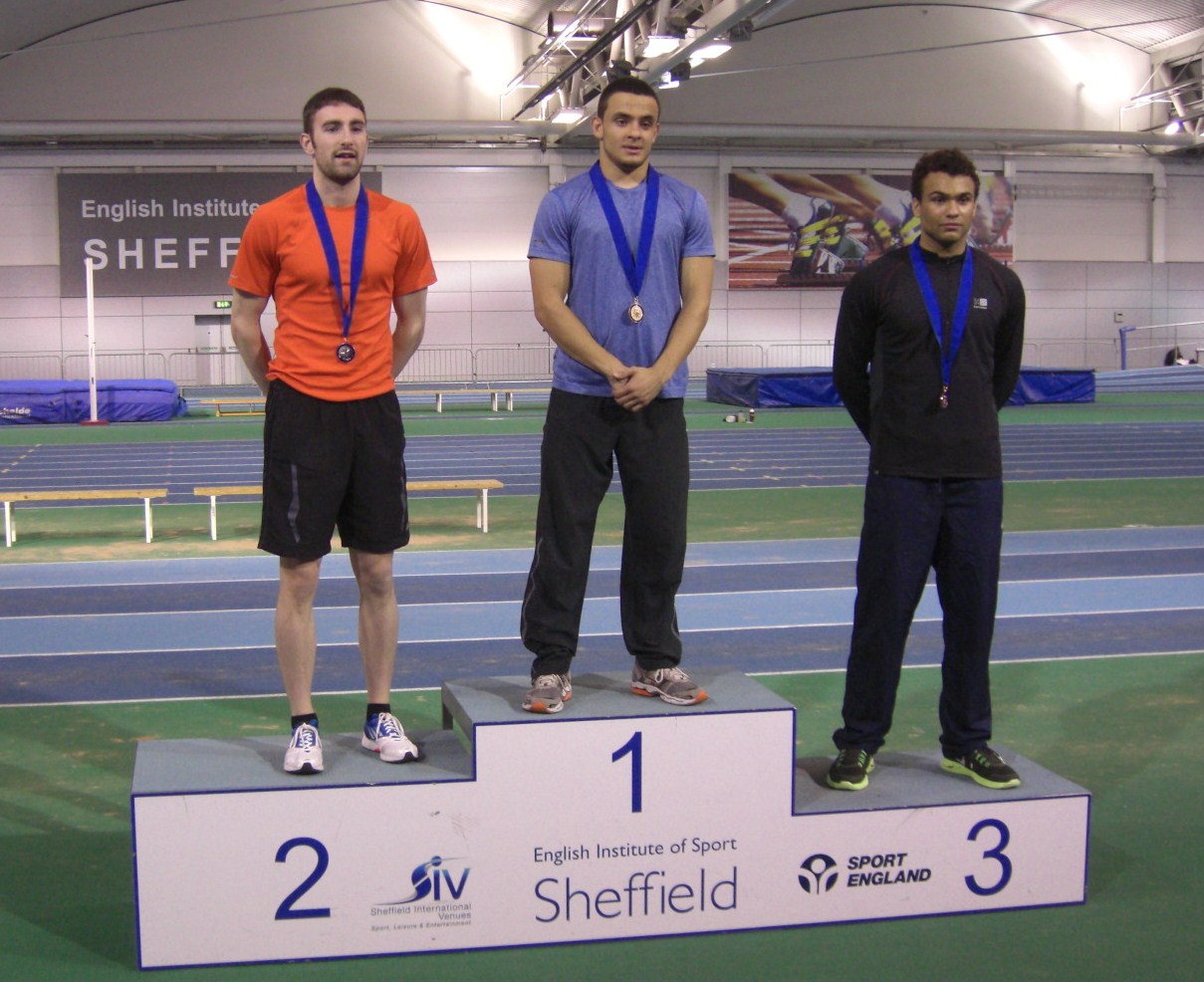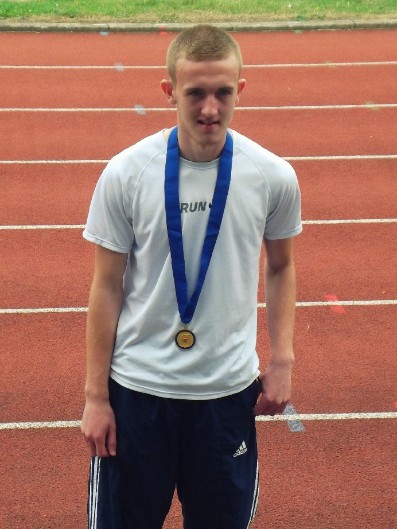 23 RD AUG 2011 - Representing Sale Harriers at the Northern England Outdoor Championships Callum Roughneen above won the Gold medal in the 200 m U 17's Event in a time of 22.2 secs (he has progressed well this season and has also clocked under 11.00 for the 100 mtr's and 22.00 for the 200 m in 2011 - Long term we feel he will develop into a top class 400 mtr Sprinter due to his high level of speed endurance.
1st Feb 2011 - Representing the England Team in Slovakia at the weekend Andy wins his 60 m sprint in Bratislava in a time of 6.78 secs. He said his winter program is going very well and he will be focusing on the 2011 season on his 100 m in the summer.
He is due to go to the USA with the British Squad of sprinters in April/May for warm weather training after competing in the AAA indoor Championships.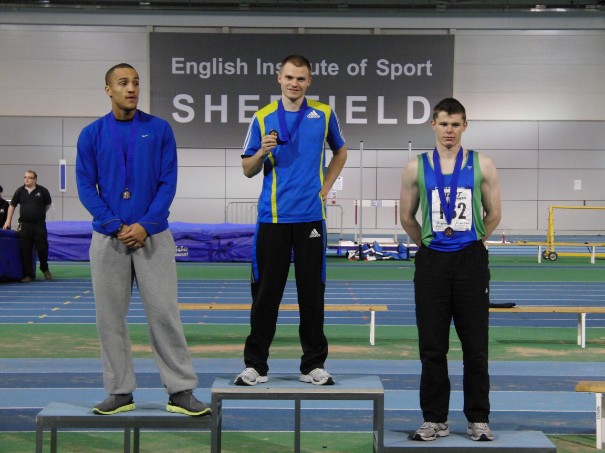 Andy on the rostrum getting his 3 rd consecutive Gold medal in the annual Northern England Indoor 60 m Championship held at Sheffield in Jan 2011
28 JAN 2011 - PSA ATHLETE SELECTED FOR ENGLAND
20 YEAR OLD ANDY ROBERTSON FROM SALE HARRIERS HAS BEEN SELECTED TO REPRESENT ENGLAND IN THE 60 M INDOORS IN BRATISLAVA SLOVAKIA ON THE 30 JAN 2011.
JOHN AND KEITH FROM PSA WISH HIM WELL AND EXPECT HIM TO DO WELL FOR HIS COUNTRY.
23 JAN 2011 - ANDY ROBERTSON WINS NORTHERN ENGLAND SENIOR 60 M SPRINT FINAL AND TAKES GOLD MEDAL ONE OF TWO GOLDS IN 60 M SPRINTS.
Andy Robertson and Charles Burke take home gold medals in the Senior men and under 20's men 60 m finals. Callum Roughneen takes Bronze in a very close race n the U 17's final in 7.22 secs.
Andys final was won in 6.82 secs and he won convincingly from an explosive start from the blocks which we have been working on with Andy and the group of 12 other sprinters at Sale Harriers. John commented after the race that Andy is in 6.66 form and really needed some stronger competition to push his time down into the 6.7 secs area. Charles ran an equaling personal best time of 6.99 secs again winning comfortably having got his drive phase right from the blocks to the first 20 m.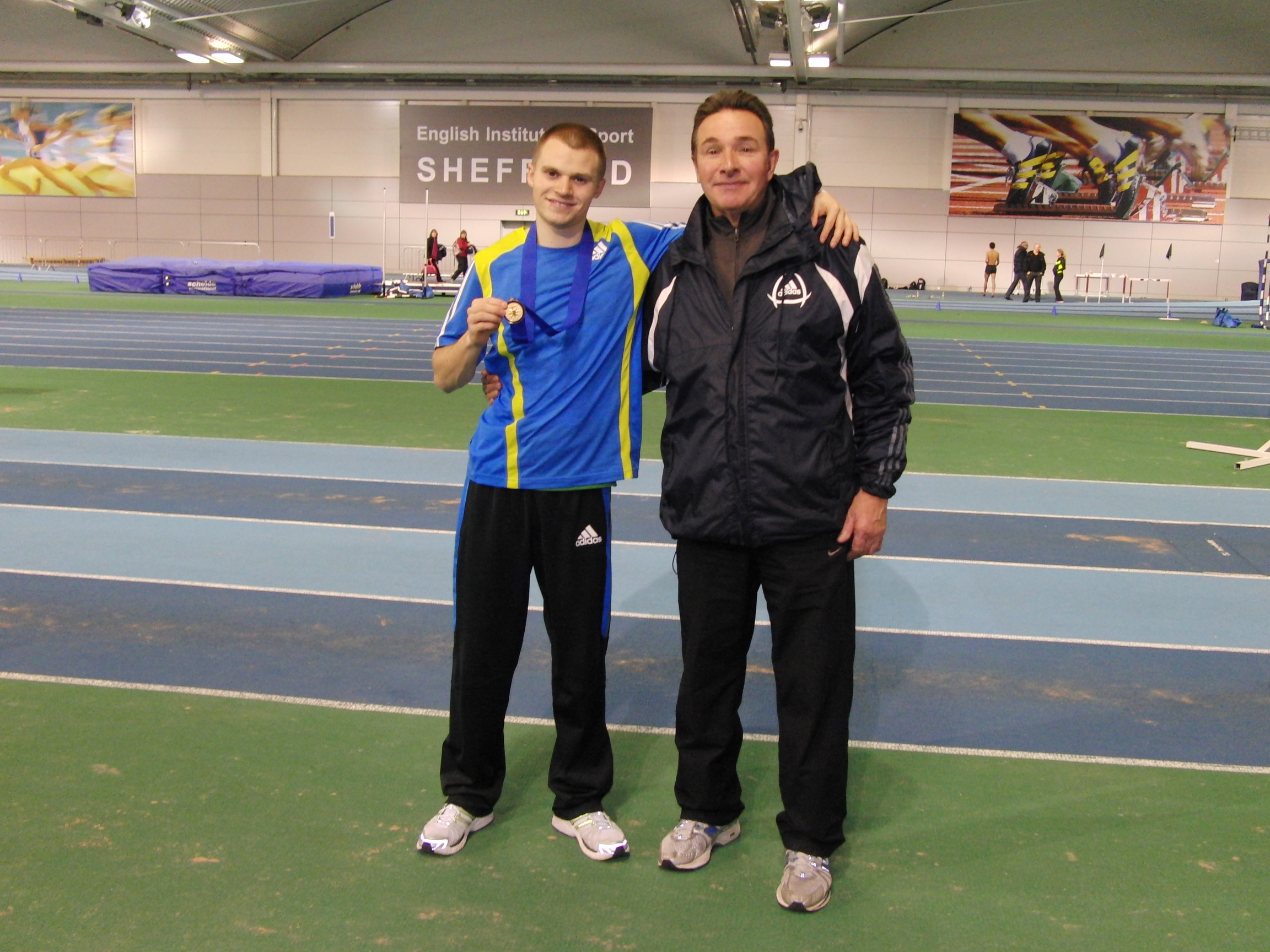 It was a good championship for all our sprinters we took nine sprinters for the 60 m sprints (three age groups) with six of them makng the move through the heats and semi finals to compete in the finals.
On day 2 Sunday Natham Selby won a Silver medal in the U17's 200 m in 22.5 secs a Personal Best having ran a personal best 60 m of 7.28 on sat finishing 4th in the final - Natham is on right of photo below and Callum who got Bronze in 60 m is 4th from left.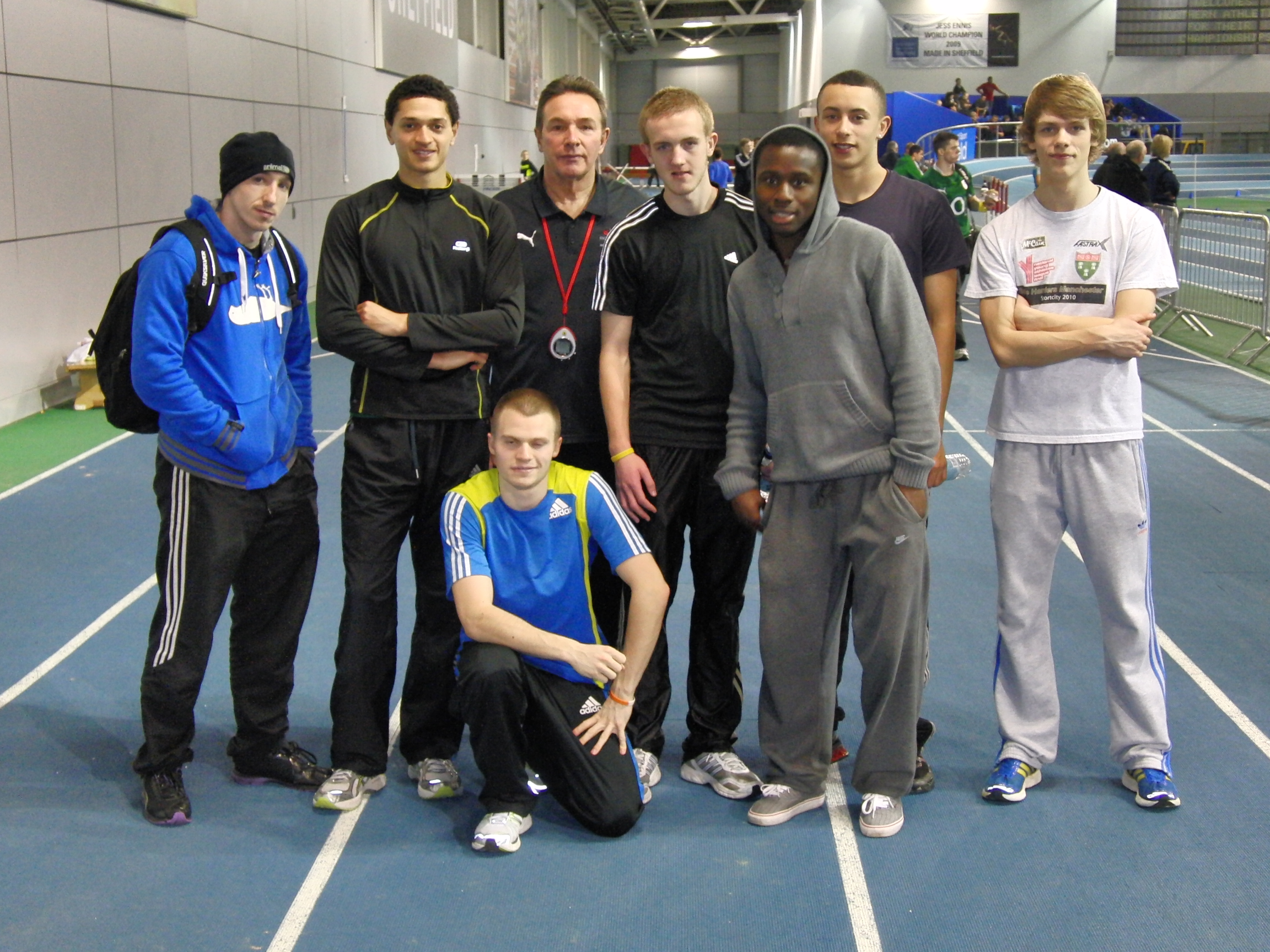 14 JAN 2011
ANDY ROBERTSON - Sprinter - Sale Harriers - Coached by John Smith and PSA.
Andy Robertdon will be competing in this weeks Northern Indoor Athletics Championships and is the current 60 m Northern England Champion from 2010 - time 60 m 6.75 secs representing Sale Harriers.
He competed in his first run out on the 2nd of Jan 2011 having done the winter Speed Endurance including hill sessions on Formby Sand dunes with the sprint group from Sale who relisth the challenge of sprinting up hills which helps with strength and power and builds up speed endurance and is important in our winter program.
On 2nd Jan He ran at our home venue Sports City Manchester (known as a slow track) with an opening race win over 60 m Sprint in 6.79 secs and 50 mins later did another 60 m Sprint in 6.85 secs . I am sure this is getting the attention of the top sprint coaches in the UK.
He is competing in the Northern Indoors Championship at Sheffield Arena on Sat 15 th Jan and should compete well and is hoping to break his northern record of 6.75 secs for the 60 m. We also have another 8 sprinters who will be looking to be very competitive in the under 17 age group and the under 20 age group including Charles Burke last years 60 m Under 17' s Champion in 7.05 secs and some new athlete who have joined the group and are progressing well.
30 TH NOV 2011 - LOREN SEAGRAVE MASTER CLASS
JOHN SMITH AND KEITH HARDING FROM PSA ATTEND LOREN SEAGRAVE MASTER CLASS FOR SPRINT COACHES
IN LATE NOVEMBER WE ATTENDED THE LOREN SEAGRAVE MASTERCLASS FOR SPRINTERS AND COACHES. LOREN THE WORLD RENOWNED SPRINT COACH FROM U.S.A. GAVE A THREE HOUR DEMONSTRATION AND CLASSROOM SESSION TO SOME OF THE TOP SPRINT COACHES IN THE NORTH. ANDY ROBERTSON WAS PART OF THE DEMONSTRATION TEAM OF ATHLETES AND WORKED VERY HARD DURING THE MASTER CLASS.
WE ARE ALWAYS WILLING TO LEARN FROM TOP COACHES AND TO INTRODUCE AND TRY NEW METHODS TO THE TRAINING OF OUR ATHLETES AND FOUND LOREN SEAGRAVE TO BE A VERY GOOD COMMUNICATOR OF HIS SKILLS AND DRILLS IN FACT THE VERY BEST.
THE SESSION LOOKED IN PARTICULAR AT THE WARM UP, STARTS, BLOCKS AND DRIVE PHAZE WHICH WE HAD BEEN WORKING ON IN THE WINTER PERIOD AND WE FOUND THE INFORMATION, DRILLS AND TECHNIQUE TO BE FIRST CLASS. WE HAVE STARTED TO IMPLEMENT SOME OF THE PROGRAM TO THE SPRINT GROUP AT SALE HARRIERS AND THANKED LOREN FOR HIS INVALUBLE HELP AND SUPPORT AND HOPE HE WILL BE ABLE TO COME BACK SOON.
JOHN AND KEITH MEET LOREN SEAGRAVE FOR MASTER CLASS WE WERE DELIGHTED TO BE ABLE TO ATTEND MASTERCLASS