1 NOV 2012 - PRESTON NORTH END FOOTBALL CLUB FIRST TEAM AGREE TO WORK WITH PURE SPEED ACADEMY
Matt Jackson - Head of Medical at Preston NE and PSA agree a speed programme for 1 st team players who want to enhance their speed. We have worked with Will Hayhurst (winger) and Bailey Wright (centre back) for initial programme. Will commented in Jan 2013 he has now improved his speed significantly and he now has 100% confidence in getting to the ball and his off the mark speed has made a massive difference to his game, recently in Jan he won man of the match having not started the game. Bailey told us has also gained a lot from the sessions and looks forward to them as he knows it is a quality technical session rather than another conditioning session. Bailey said he was running more relaxed and felt he has more speed and his reactions were better.
Keith - Pure Speed academy head coach said that he was very happy with the committment shown by the players and they now have a good understanding of what can be achieved through quality technical sessions having both improved the speed element of their game. Both players are fully committed coming on their day off to Sports City Manchester.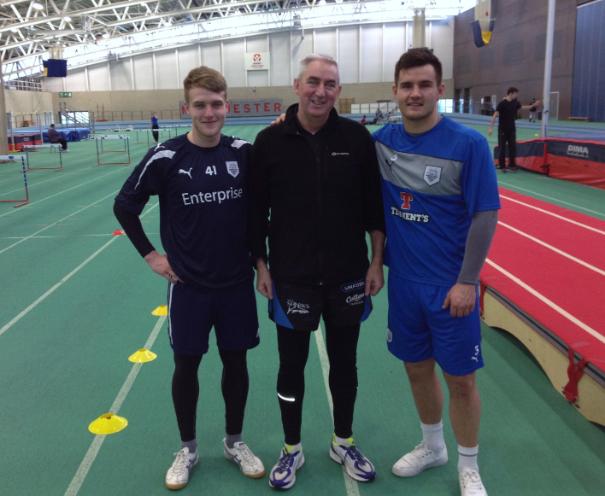 Will Hayhurst and Australian Baily Wright enjoying a Speed Session at Sports City Manchester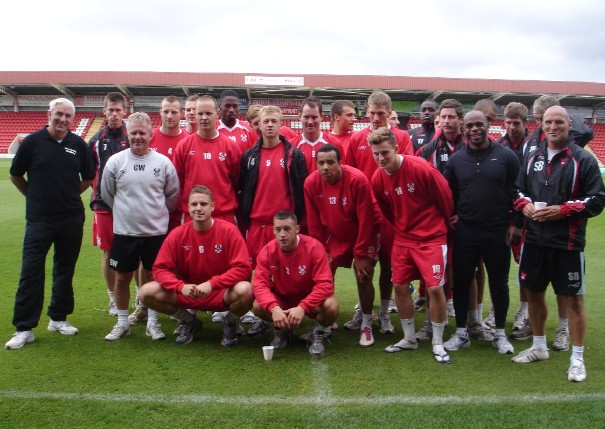 Sept 17th 2011 - Pure Speed Academy & Richardson Sport form partnership to deliver Speed Agility Workshop to Steve Burr's Kidderminster Harriers Football Club first team.
Richardson Sports Wayne Richardson a well known Strength & Conditioning specialist in Football now in partnership with Pure Speed asked if PSA could use the Speed Workshop for Football to enhance Speed and Agility at Kidderminster Harriers. During Sept we visited Kidderminster and implemented The Speed Workshop for Football developed by Keith at PSA.
Steve Burr Manager commented after the session that it was just what they wanted with emphisis on technique and that the Session fitted in well with his own programme without causing any fatigue on his players whilst seeing the benifits of learning the correct way to run at speed to save energy during a game. He said that the starting technique in particular was an area that he could see would vastly benifit all players. Kidderminster have asked PSA to carry on working with the team and some individual players have asked for one to one sessions for Speed.