FEB 20 th 2014 - MARK CUETO - SALE SHARKS WINGER JOINS PURE SPEED ACADEMY FOR SPEED PROGRAMME - MARK IS THE HIGHEST PREMIERSHIP TRY SCORER AND HAS 55 CAPS FOR ENGLAND (SEE RUGBY NEWS)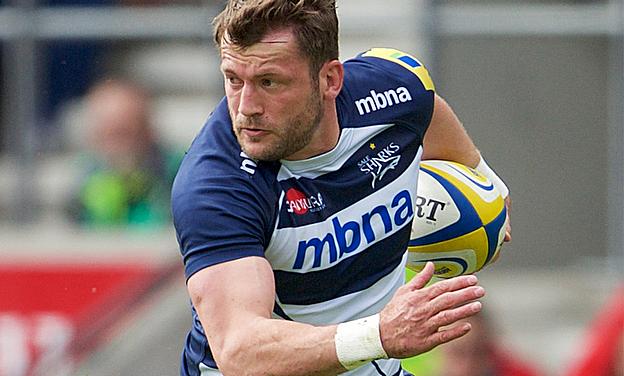 JAN 29 th 2013 - KEVIN SINFIELD - 'GOLDEN BOOT' RUGBY LEAGUE WORLD PLAYER OF YEAR 2012 JOINS PURE SPEED ACADEMY FOR SPEED PROGRAMME AND ATTENDS PSA ACADEMY (SEE RUGBY NEWS)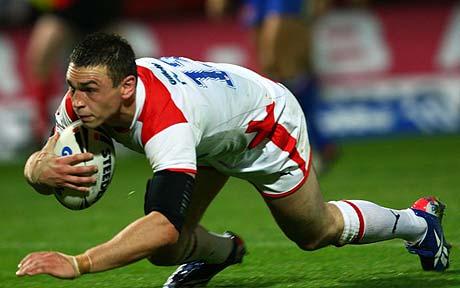 JAN 2013 - CONGRATULATIONS TO YOUNG ACADEMY PLAYERS COACHED BY PSA FOR UP TO 2 YEARS WHO HAVE BEEN SELECTED FOR ENGLAND RUGBY LEAGUE SQUADS. (see Rugby News)
WE ARE SURE THEY HAVE A BRIGHT FUTURE AHEAD IF THEY CONTINUE TO WORK HARD:
Edwin Okanga - Salford Reds - Selected for England U 18's
Issac Noi - Wigan Academy - Selected for England U 16's
Jack Etchells - Wigan Academy - Selected for England U 16's
Jack Rush - Wigan Academy - Selected for England U 16's
JAN 2013 - CHRIS ROSE - Former England Rugby League Academy skills coach and Warrington Wolves Academy Coach agrees to work with PSA during 2013 to implement the Pure Speed Academy programme alongside Rugby skills workshops into Rugby League and Rugby Union. (see Rugby News)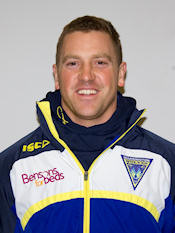 .............................................................................................................................
12/13 th Jan 2013 - Sale Harriers and Sheffield Hallum athletes coached by Pure Speed Academy coaches win ' large medal haul ' at Northern England Championships in 60m and 200m Sprints.
BELOW - Natham Selby Gold and Callum Roughneen Bronze in Northern Indoors 200 m U20's Championship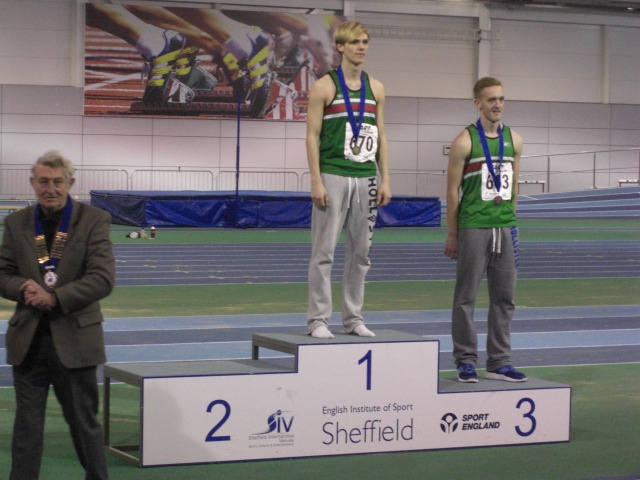 .............................................................................................................................
1 NOV 2012 - Jan 2013 - Preston North End first team players start Pure Speed Academy programme to enhance players Speed and Agility. (see football news)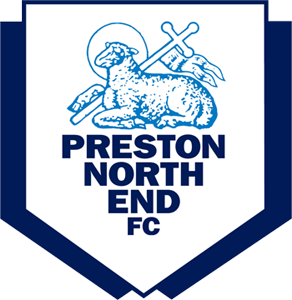 22 NOV 2012 - Olympic Champion works with PSA on Sprinting - Jade Jones works on 100m technique out of blocks for superstars TV programme to be screened boxing day 2012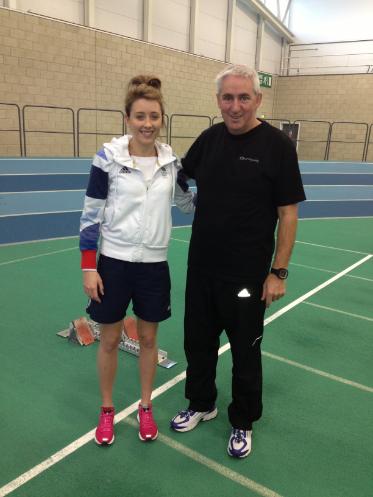 12 MARCH 2012 - English Lacrosse agree partnership with Pure Speed Academy at Loughborough meeting.
English Lacrosse performance management team, Richard Gartside - Education & Skills Officer - , Paul Coups - National Education & Skills Manager and Phil Collier - Head of Performance agree to implement the Pure Speed Academy - speed workshop programme into the UK English Lacrosse performance System.
Having worked with Richard since Jan 2010 with new England under 18's English Lacrosse cohorts (ladies and men) at Sports City Manchester and Oldham Athletics Centre said they were happy to give us the seal of approval. PSA will go ahead to develop the PSA level 1 to 4 Workshops into lacrosse throughout the North and South.
A number of the athletes went on to join the England u'19's Squad with Richard preparing for the world championships in Finland in July with Vince Cara (defender) going on to be selected as Captain. Vince worked on a 1 to 1 basis with PSA to improve his Speed, Explosive speed and Agility.
1 OCT 2011 - ' FASTEST MAN IN SUPER LEAGUE 2011 ' JODIE BROUGHTON - SALFORD REDS / ENGLAND HAS JOINED PURE SPEED ACADEMY PROGRAMME TO ENHANCE HIS SPEED
RECENTLY CROWNED THE FASTEST MAN IN SUPER LEAGUE JODIE JOINS PURE SPEED ACADEMY FOR A FULL WINTER PROGRAMME AT OUR TOP CLASS FACILITY AT SPORTS CITY. JODIE HAS ALREADY COMPLETED A NUMBER OF SESSIONS AND SAID RUGBY PLAYERS NEED TO GET THE BEST TRAINING IN ALL ASPECTS OF THE GAME INCLUDING SPEED EXPLOSIVENESS TO PUSH ON AND IMPROVE TO THE NEXT LEVEL.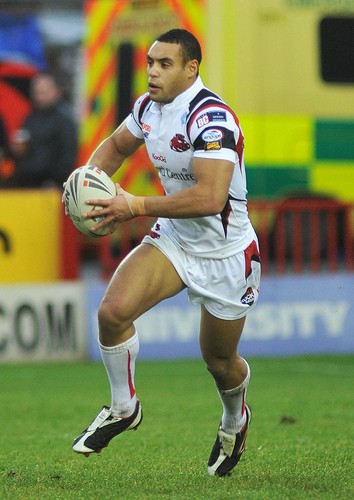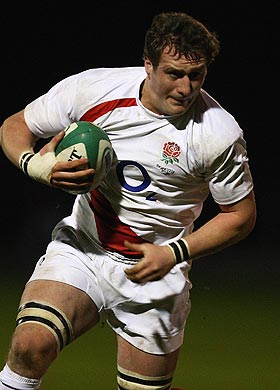 JUNE 1st 2011 - 22 YEAR OLD ENGLAND RFU INTERNATIONAL PLAYER CARL FEARNS STARTS PROGRAM WITH PURE SPEED ACADEMY.
Carl Fearns former Sale Sharks player who is joining Bath Rugby starts a pre season programme with PSA. Carl said he wanted to work with us to improve his running technique, explosiveness and speed endurance. He has played for England U16s, U18s and U20s and was nominated for the 2009 Junior World Player of the Year award.
He will resume the 6/8 week programme shortly having also been selected to train with the England Saxons squad having played for England v Barbarians recently. We will be getting Kyle Eastmond together with Carl for some sessions as they will both be team mates with Kyle making his code switch to Bath Rugby Union from St Helens Rugby league.
Scott Briggs - Hooker, formerly Sale Sharks also starts Pre season programme with PSA. Eighteen year old Scott will be gaining experience in France next season. Neil Briggs also works with PSA and has signed a one year extension to his contract with Sale Sharks.
MAY 8th 2011 - ENGLISH LACROSSE ELITE PLAYERS TRAIN WITH PURE SPEED ACADEMY
Pure Speed Academy are please to announce a partnership with the English Lacrosse Elite Player Programme. Richard Granger - Elite Player Manager of the English Lacrosse Association has agreed to work with Pure Speed Academy for under 18's and U 19's Squads.
Having been introduced through Oldham Boxings Eric Noi who work with PSA, Richard organised the first Workshop for the Sun 8th of may at Sports City Manchester our home venue for the under 18's Squad. The players really enjoyed the session and gave excellent feedback. We covered Running Technique explosive starts and agility.
Richard commented he thought it was a well organised and professional Workshop with all his players getting a lot from the session. He has requested that we do five more workshops for the under 18's Squad and also work with the U 19's Squad shortly.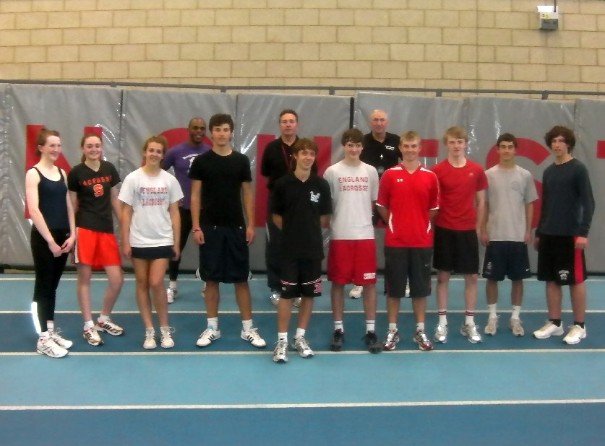 ...................................................
31 Jan 2011 - SALE SHARKS CONFIRM THEY WILL WORK WITH PURE SPEED ACADEMY FROM MARCH 2011
DAVID WILKES - SALE SHARKS ACADEMY CONFIRMS THAT HE HAS AGREED TO WORK WITH PURE SPEED ACADEMY WITH WORKSHOPS FOR THE ELITE PLAYER DEVELOPMENT SQUAD(EPDG) AT THE SALE SHARKS ACADEMY.
AT A MEETING ON THE 25 TH OF JAN AT SPORTS CITY INDOOR ARENA WE DISCUSSED OUR WORKSHOP PROGRAM FOR PLAYERS RANGING FROM 14 TO 19 YEAR OLD. THE PLAYERS ARE WITHIN THE SALE SHARKS ELITE PLAYER SYSTEM. WE ALSO SET UP A TRAINING SESSION WITH SOME RUGBY AND FOOTBALL PLAYERS TO SHOW HIM THE TYPE OF TRAINING WE DO TO ACHIEVE EXPLOSIVENESS AND SPEED.
DAVE COMMENTED THAT HE ENJOYED THE SESSION AND GOT A GOOD UNDERSTANDING OF THE METHODS WE USE TO IMPROVE PLAYERS SPEED THROUGH TECHNIQUE AND SPEED DRILLS.
WE WILL COMMENCE THE WORKSHOP ON THE 9TH OF MARCH AT CARRINGTON (SALE SHARKS TRAINING FACILITY) WITH TWO GROUPS OF APPROX TWENTY PLAYERS AND AFTER THE SESSION WILL GIVE A SHORT PRESENTATION AND TALK TO THE PLAYERS AND PARENTS.
......................................
JAN 14 TH 2011 - PURE SPEED ACADEMY ANOUNCES JOINT VENTURE WITH CHIRON SPORTS MEDIA (more to follow)
CHIRON SPORTS MEDIA HAVE AGREED TO REPRESENT PURE SPEED ACADEMY WITHIN OTHER SPORTS INCLUDING FOOTBALL, CRICKET, BASKETBALL, AND IS CURRENTLY WORKING WITH PSA ON PROMOTING THE PURE SPEED ACADEMY WORKSHOP TO FOOTBALL CLUBS INCLUDING PREMIERSHIP CLUBS
JONATHAN BOOKER DIRECTOR OF CHIRON SPORTS MEDIA IS A FIFA LICENCED FOOTBALL AGENT AND HOLDS OTHER SPORTS LICENCES. CHIRON WORK WITH PLAYERS FROM GRASS ROOTS LEVEL TO SENIOR PLAYERS AT ALL LEVELS AND IS A FORMER ATHLETE AND COACH.
Chiron Sports & Media
An Independent Sports Agency for Professional Sports Representation
Chiron is an Independent ethical sports agency, with a professional support network, for both established and developing professional sports people and their sporting employers.
Chiron to promote Pure Speed Workshops
The 'Speed Academy' Programme for Rugby and Football
The 'Speed Academy' programme for rugby and football, can be implemented as either a 4 week or 8 week programme and is based on four core speed and agility modules delivered in 8 sessions, at
either your sporting facility or the 'Pure Speed' elite stadium facility
The programme can be tailored to your specific speed requirements and objectives for groups of approximately 10 players. The programme is suitable for a wide range of players from development and academy squads through to the elite first team professionals.
The 'Speed Workshop'
The pure speed workshop is a 6 hour workshop and can be delivered at your facility or the 'Pure Speed' stadium facility, and this is our opportunity to introduce your team(s) to some elite speed and sprint practices, that can be put in place to help realise
increased levels of performance
and
sporting success
.
The Pure Speed Workshop also gives us the opportunity to share with you and your coaching colleagues a valuable insight into what can be achieved in terms of speed development, and an insight into 'Speed Academy'. However there is no obligation from the workshop to progress onto the full 'Speed Academy'
The Pure Speed 'Speed Workshop' & 'Speed Academy' for football are promoted in association with Chiron Sports & Media
www.chironsportsandmedia.co
SEPT 11 2010 - PURE SPEED ACADEMY HAS TWO NEW 60m STREET ATHLETICS SPRINT NATIONAL CHAMPIONS
TWO ATHHLETES CHARLES BURKE AND CALLUM ROUGHNEEN COACHED BY PURE SPEED ACADEMY COACHES WIN NATIONAL TITLES OVER 60 m IN UNDER 17'S AND UNDER 20'S THEY WERE PRESENTED WITH THE TITLES BY LINFORD CHRISTIE AND DARREN CAMPBELL WHO RUN THE UK STREET ATHLETICS EVENT.
BOTH ATHLETES COMPETED IN THE STREET ATHLETICS SPRINTS NATIONAL SERIES WHICH IS DESIGNED TO FIND THE FASTEST YOUNGSTERS ACCROSS THE UK THEY ALSO ARE ATTACHED TO SALE HARRIERS.
BACKGROUND TO STREET ATHLETICS - Throughout the summer, runners from across Manchester's communities will be competing in heats for the chance to gain a place at the Manchester Street Athletics Final which will take place on a special 60m sprint track in Albert Square (Friday 10 Sept), to be crowned Manchester's street athletics champion. The Grand Final (Saturday 11 Sept) will see Linford Christie and Darren Campbell return to the city, as the fastest youngsters from across England will be racing to become the Street Athletics Grand Final winner 2010.
CHARLES BURKE - UNDER 20'S NATIONAL 60 m STREET ATHLETICS CHAMPION IN 7.35 SECS IN PUMPS (NO SPIKES ALLOWED) HE HAD THE USUAL MANCHESTER RAINY WEATHER TO CONTEND WITH. HE ALSO WON MANCHESTER TITLE THE NIGHT BEFORE IN AN TIME OF 7.11 SECS IN THE FINAL.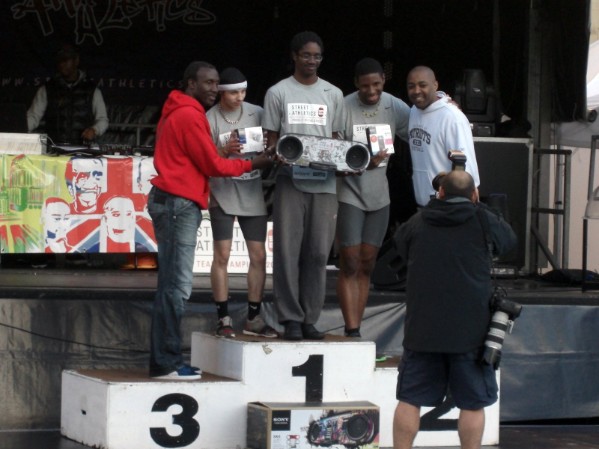 CALLUM ROUGHNEEN - UNDER 17'S NATIONAL 60 m STREET ATHLETICS CHAMPION IN 7.48 SECS AGAIN IN PUMPS AGAIN IN REALLY WET MANCHESTER WEATHER.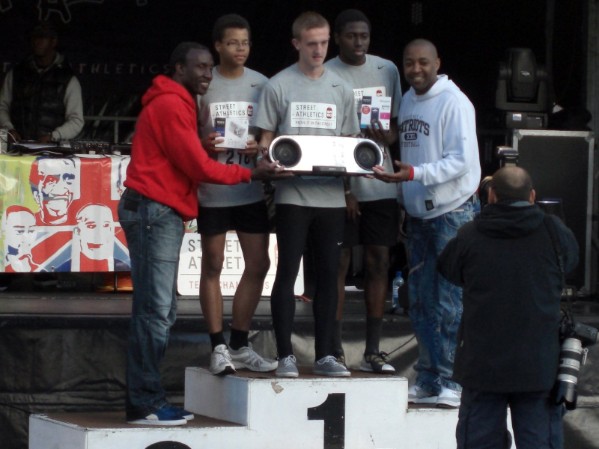 THIS WAS THE FINAL RACE FOR THE SEASON AND THEY WILL BE WORKING ON A WINTER PROGRAM COMMENCING WITH THE DREADED START OF HILLWORK ON 27TH SEPT 2010 WITH OTHER ATHLETES INCLUDING ANDY ROBERTSON. THE SPRINT GROUP WILL COMPETE INDOORS IN JAN 2011 FOR SALE HARRIERS AS PART OF THE BUILD UP TO 2011 SEASON.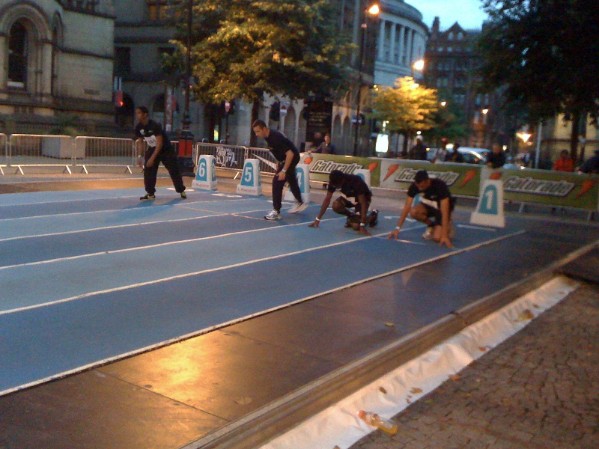 MANCHESTER STREET ATHLETICS FINALS FRI 10 SEPT 2010 WENT ON UNTILL EVENING WITH CHARLES BURKE PROGRESSING AND WINNING MANCHESTER FINAL 60 M IN 7.11 SECS